Our Males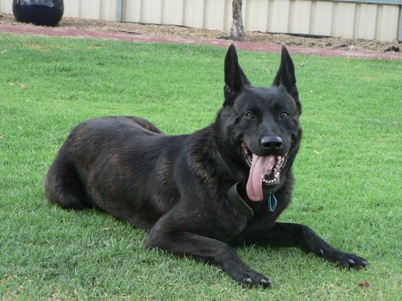 Boy Van Kamphuis (Imp. Holland)
Boy was imported by us from Holland as a puppy. He is a large, strong built male (67cms - 45kgs) with a great head and dark brindle colour.
Boy has what can only be described as extreme prey and fight drive. He has rock solid nerves and very high tolerances and thresholds. He has a full, strong genetic grip. He can be a difficult dog to handle due to his immense drive. Boy is a social dog, both with people and other dogs.
Boys bloodlines are full of some of the best producers in the KNPV. He is linebred Rambo v Rossum, Arras Derks, Duco II Seegers to name a few. Boys father is the well known Dutch Shepherd Dog Arko Kikkert, a dog known for extreme toughness and seriousness.
Gerben Kamphuis says the following about Boy - "Boy is one of the best Arko sons and is one tough, tough dog" "You won the lottery when you got Boy. To get a dog that has the strength of character he has, the looks, and the bloodline, all in one dog is not easy".
Boy is the first Dutch Shepherd dog to be accepted as a stud dog in the RAAF breeding program. He has been tested numerous times by them and has taken everything thrown at him with ease.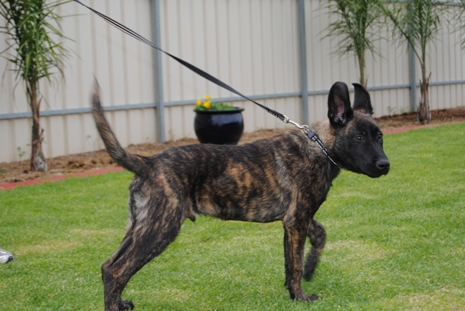 Izilop's Scooby
Scooby is a son of our Boy v Kamphuis and Ninja v Leeuwen. We took Scooby as pick of litter to raise and train.
Scooby has an extremely strong and tight bloodline, being both an Arko Kikkert and Wibo v Leeuwen grandson. He is also tightly line bred on Rambo v Rossum and Rocky v Leeuwen, both quality producers in their own rights.
Scooby has impressed since the day we took him home. He is super confident, has strong nerves and has what can only be described as extreme drives. This is a quality puppy, and we have no doubt he will be a strong dog. He is very quick maturing and showed his drive at a young age.
The other impressive thing about Scooby is his whole litter was high quality, which just adds to the full picture of this puppy.
Scooby was sold to the Royal Australian Air Force where he has become the first Dutch Shepherd to be certified as a military working dog. His sister is also in the RAAF breeding program and three other brothers are also in the RAAF MWD program.
Frozen Semen

Rudie Pegge
KNPV PH1 425 Met Lof
KNPV PH2 455 Met Lof
KNPV Object Bewakingshond 356 Met Lof
Rudie Pegge is a dog that needs no introduction in Dutch Shepherd or KNPV circles. Simply put, Rudie is one of the most successful competition dogs in the KNPV and is one of the most prolific studs of the last 10 years.
Rudie is a very high drive dog, with solid nerves and extremely high trainability. He is a handler hard dog, but is not handler aggressive. He is suited equaily as a police dog and a high level sport dog. Rudie is also a crowd pleaser due to his high flying courage tests and strong barking in the guarding work.
Rudies bloodlines carry some very impressive KNPV dogs such as Quatro Peulken, Arras Pegge, Catro Janssen and Pecco Pegge.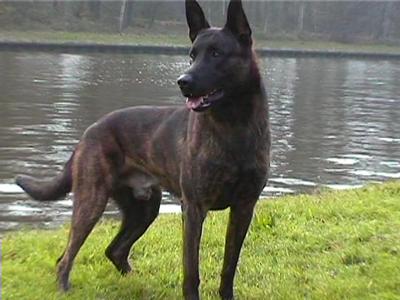 Tommy Luijken
KNPV PH1 404 Met Lof
Tommy is a very large dog at 68cms, with a head most German Shepherds would be proud of. He is a dark brindle dog with strong bones and substance. Tommy is a very hard dog, who is known for his extreme and intense bitework. He has crushing full bites coupled with high courage and thresholds. He is a dominant and handler hard dog who requires a strong and experienced handler to control him.
Tommy came from a very successful breeding which produced working dogs of the highest calibre. His brother Dickie Van Nimwegen PH1 417 Met Lof, Object 339 Met Lof is considered a strong dog and his other brother Robbie Van Eerden PH1 Met Lof, Object Met Lof competed at the 2004 National Object Guard championships, where he placed third behind Rudie Pegge. Ronnie was then sold to the Police in the Kennemerland region of Holland where he worked the streets as an active police dog.
Tommy has an excellent bloodline being a Rocky Van Leeuwen son and a Duco II Seegers Grandson. Students of the KNPV bloodlines will know these to be some of the best bloodlines for the production of police dogs in the KNPV, and Tommy is known for throwing these serious police dog type puppies.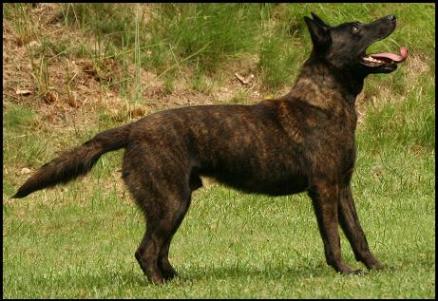 Carlos Van Vos
KNPV PH1 - 434 Met Lof
Carlos is a medium, large dog with a nice dark brindle colour. He is one of four pups in a litter where all went on to become working dogs of the highest quality. His brother is the well known police dog Wibo Van Leeuwen and his two sisters are both high quality producers and workers as well, with one of them Quinty Cornelissen, being titled PH1. The other sister was exported to Mexico for breeding and security work.
Carlos is a very hard, very extreme and a brutal biting dog. He has big thresholds and needs a very experienced handler. He has also thrown these types of character traits to his offspring. Carlos's bloodlines go back to some of the KNPV' s best producers such as Rambo van Rossum and Rocky van Leeuwen.
Gerben Kamphuis says about Carlos " This is one hard biting, brutal, serious dog."
We expect Carlos to go well with our other Dutch Shepherds and we can wait to see what pups we eventually might get from him.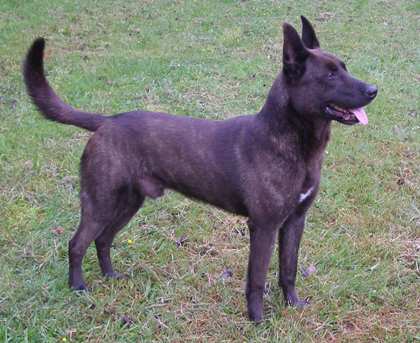 Vito Makken
KNPV PH1 - 419 Met Lof
Vito is a very large KNPV Dutch Shepherd who stands around 70 cms and weighs around 45 kgs. He is also a very good looking dog with a big head and strong bones.
Vito is PH1 titled and is a working street dog in the north of Holland, where he is very well known in the security industry. Vito has extreme drives and is an extreme, high flying attacker. He also has extremely strong nerves and very high thresholds to discomfort. Vito is a social dog and excellent with his family. He is easy and clean in the kennel.
Vito has been seen and tested by Gerben Kamphuis, after which he stated that he could not stop thinking about Vito for months after, he was that good.
Vito's bloodlines are top of the line police bloodlines, going back to dogs such as Sjimmy From Lobsters Home, Duco II Seegers, Arno Kleine Schaars as well as the Mokkink bloodlines. These bloodlines are as good as it gets for the production of police dogs, anywhere in the world.
Vito's brother is Sjors From Lobsters Home, another strong producer of police dogs in Holland.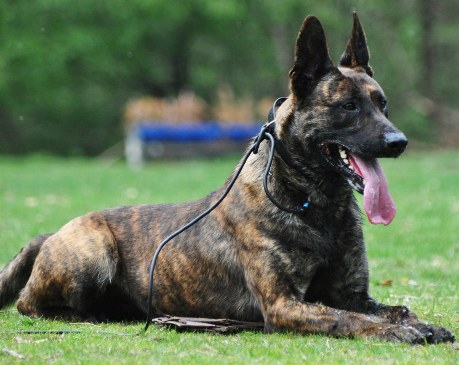 Boris Doeze
Boris is currently the most sought after Dutch Shepherd stud in the KNPV. He has produced extremely strong off-spring and is also one of the most impressive KNPV dogs in training today.
Boris has over the top, extreme drive levels, coupled with strong nerves and high hardness. Everyone who see's the dog knows his quality. He is too much dog for most handlers, but he brings everything to the table. Far more police dog in nature than sport dog, Boris is a "any time, any where" type of dog.
Stature wise Boris is 65cms tall and weighs 40kgs.
Not only is Boris a top of the food chain dog, but his whole litter was quality. His bloodlines are impressive going back to Django Sommers, Duco II Seegers and Arko Kikkert. This will give us strong line breeding potential with our current dogs as well.
Thanks to Ad Doeze for helping us to collect and freeze semen from Boris.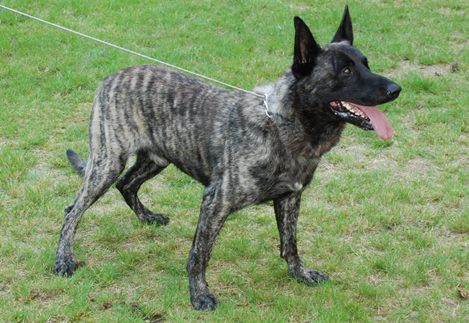 Danko Jochems
KNPV PH1 - 426 Met Lof
Danko is a very interesting and valuable dog for our breeding program. Danko is a very large (68cms and 45kgs) and powerful dog with a large head. He has hard, fast and powerful entries in to the decoy, and has a full and hard bite. He has a very impressive guarding style on the decoy.
Danko has very high and serious drives, and is very territorial at home. He is a true police dog at heart and not a dog to take liberties with, and requires a strrong and experienced handler. He is a very tough dog who takes alot of pressure without stress. He has a very high retrieval drive and is possessive of his things. Danko is a true example of the strong dogs from his bloodline, which is the equal of any. His brother Renzo is a police dog in Holland and is also a super strong Dutch Shepherd.
Dankos bloodlines go back to Rambo Rossum, Breston Massop, Bodhy Geytenbeek, and Sjakie and Jacques Langemaat. Any students of the KNPV bloodlines know these dogs reputations.
Danko is a dog who isn't as well known as some of our other dogs, but he is the same quality. He hasn't been over used and gives us an outcross without dropping quality. We think that Dankos reputation will become more known and he will get quite a few breedings in the KNPV.
We are very excited about been able to secure this dogs semen for our program, and we would thank Erwin Jochems for allowing us to collect and freeze semen from Danko.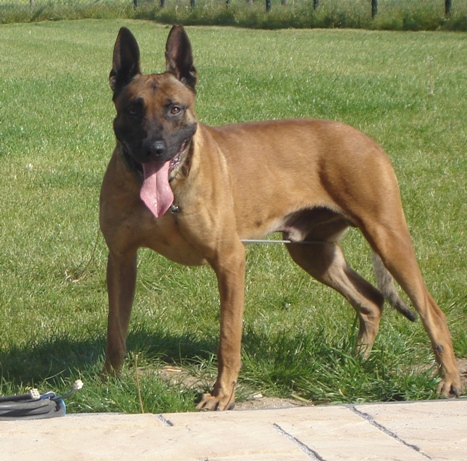 Rico Vergossen
We purchased frozen semen from Rico to add his bloodlines to our breeding program. Rico is without doubt, one of the strongest dogs in the KNPV today. He is so strong that it is unlikely that he will gain his PH1 title. He is known thought Holland and the world for his hard, extremely high driven character. He has extremely strong nerves and a very hard and full bite. Rico stands about 67 cms high and weighs 42-45 kgs.
The combination that Rico comes from is also known as one of the best ever. The litter was done three times and the vast majority of all the pups are strong and hard. Along with Rico, three of his brother's were also top producing stud dogs, namely Jochie Ulrich, Kwinto Sommers and Rico te Lindert.
This breeding is considered Duco 2 Seegers dominant, as the offspring of it were very Duco type. In fact, some well known Dutch KNPV trainers who spent time around Duco claim that Rico Vergossen is the closest thing to Duco they have seen. Added to this fact is that Rico also goes back to Django Sommers, a top tier KNPV stud dog.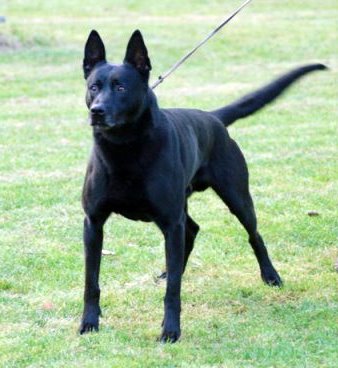 Jary Berghorst
KNPV PH1 - 428 Met Lof
KNPV Object Bewakingshond 354 Met Lof
Jary is a working dog that requires no introduction. Jary is one of the top five producers of police dogs of his era, who not only produced at the top end of the spectrum, but he was also a top dog in his own right.
Jary is a medium large dog with a good build and strong health. He has fast and strong stick attacks and extreme drives, high hardness coupled with super nerves. Jary has a great bloodline going back to Rambo Rossum, Marco Linders and Arno Kleine Schaars. Jary himself will go down in history as these famous dogs in his bloodline have.
We look forward to out-crossing our dogs to Jary, and we hope we can build upon it as time goes on.
Thank you to Johan Berghorst for allowing us to collect and freeze semen from Jary.
For us, the qualities we strive for are :
Extreme Drives (Fight, Prey and Hunt)
High Thresholds
Strong Nerves
Full and Hard Grips
Handler Hardness
High Confidence
High Levels of Dominance
A-Social Type Behaviours
Good Bone and Substance
Excellent Hips and Elbows