Our Females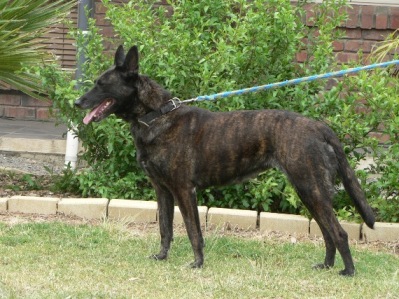 Kim Van Der Heijden (Imp. Holland)
Kim was imported by us to be the foundation of our Dutch Shepherd breeding program, and as such is the first Dutch Shepherd to be imported into Australia of any kind. She is a large (65cms - 38kg), dark brindle female that has very intense drive, high retrieve and a strong territorial instinct. She had one litter in Holland to a male that participated in the 2004 KNPV Nationals. A number of her pups have passed PH1 in Holland.
Kim has the strongest KNPV bloodlines that are available today. Her lines brings in such dogs as Rambo v Rossum, Arras Derks, Duco II Seegers, Marko Pegge, Pecco Pegge to name just a few. Kim comes from a very successful combination that was repeated a number of times. One of her litter sisters was Kira v Kamphuis, KNPV PH1.
Click on this link to see video of Kira v Kamphuis in action.
Kims father was Bono Pegge, PH1 440. Bono is a very large dog (68cms) that competed in the 2002 KNPV Nationals. He was a very strong, hard dog, that performed well in the KNPV where he scored full points.
Thank you to Hans Pegge and Gerben & Monique Kamphuis for helping us acquire and import Kim.
Bimmy Van Kampftrieb
Bimmy is without doubt the one of the toughest females we have seen. Bimmy is from our Boy x Kim litter and she has the strongest parts of both of her parents, and as such is an excellent example of the bloodlines she carries.
Bimmy is a large female at around 63cms and 34kgs. She is a nice brindle colour and is very muscular and athletic dog. Bimmy has what can only be described as intense, serious drive. She has firm nerves and is indifferent to other dogs or people.
Bimmy has high thresholds and is quite a stubborn, wilful girl at times. We look forward to the time we will spend with her.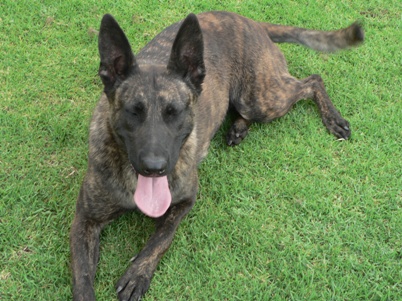 Beppie Van Kampftrieb
Beppie is the second female we kept back from the Boy x Kim litter. Beppie has a very similar character to her mother, and as such she is very high in prey and fight drive, and is very territorial. She is one of the most physically strong females we have seen, and her bitework is very hard and powerful, being much more like a male's than a female's. She is more in the police dog mould than sport.
Beppie is an extremely large and solid female, being around 65cms and 44kgs. She has a very large head and strong bones. She is an excellent and affectionate dog to live with, but she is not overly social to strangers. She is very calm and easy in the kennels.
We will breed Beppie in the future and we cannot wait to see what offspring she will produce.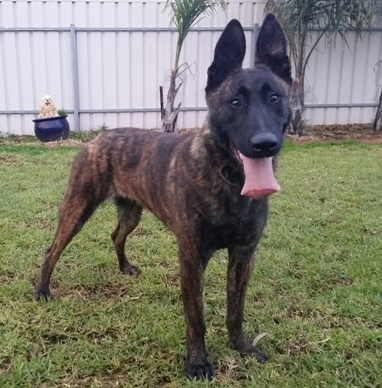 Delta Van Kampftrieb
Bloodline - Pictures
Delta is a daughter of the well known and much sought after stud dog, Jary Berghorst PH1, Object. Delta is a good looking, strong female of around 63 cms and 34 kgs.
Delta has very high drives and a strong grip. She is social in nature, and very typical of Jary offspring.
We will be breeding Delta in the future and look forward to how she will produce.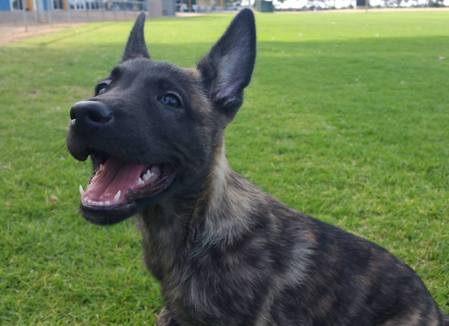 Exi Van Kampftrieb
Bloodline - Pictures
Exi is a daughter of Danko Jochems PH1, and Anja Dobbelaar (Imp. Holland). Exi's bloodlines is a very strong one, being line bred on Rambo Rossum and Breston Massop. These bloodlines are very difficult to find close up and her bloodline represents one of the best examples of this.
These bloodlines are known for producing big, physically strong, serious dogs. They can be strong minded and very dominant to both strangers and their handlers.
Exi is only young but showing nice signs so far. If she continues this progression we hope to add her to our breeding program.
Thanks to Ben Haley for leasing Anja to us for this breeding.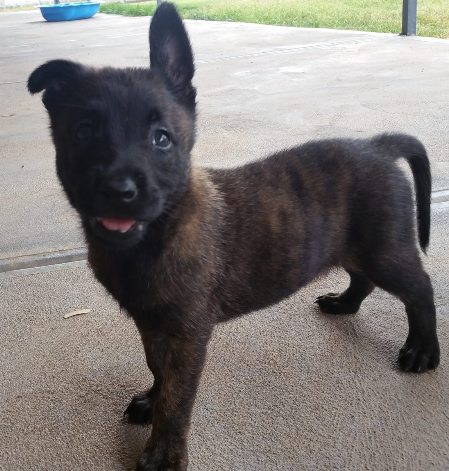 Frenzi Van Kampftrieb
Bloodline - Pictures
Frenzi is our newest young female. She is a daughter of Boy Van Kamphius and Beppie Van Kampftrieb, making her an inbreeding on Boy. We wanted to do a close breeding on Boy as he has produced really strong, consistent dogs from all of his 3 litters.
Frenzi is a typical Boy offspring, showing strong nerves, robust physicality, lack of sensitivity and high drive.
We expect her to be a large, strong female, social and outgoing, but highly driven and strong nerved.
For us, the qualities we strive for are :
Extreme Drives (Fight, Prey and Hunt)
High Thresholds
Strong Nerves
Full and Hard Grips
Handler Hardness
High Confidence
High Levels of Dominance
A-Social Type Behaviours
Good Bone and Substance
Excellent Hips and Elbows